Proven products
from the best producers
100% Security
SSL certificate
24/7 Support
Dedicated support
Giant Brushed, Stainless Steel Water Wall Cascade, height 173 cm
This awe-inspiring water cascade decoration is made of high-quality stainless steel. It is 1.74 m high and is fully autonomous. Placed in the office, reception room, restaurant or garden, it will add charm to the surroundings. It is a standalone water decoration, it contains everything you need for immediate operation.
Brushed stainless steel cascade water wall. 5ft 6 "/ 1.73m
It is supplied with two halogen lamps and a pump with a 10m power cable. No additional tank is required - the water flows back to the hidden tank inside.

Characteristics:

Original look - This impressive wall of water reaches over 1.5 meters creating a truly impressive look in the office, reception or garden
Durable construction - Made of high-quality stainless steel, it is highly corrosion-resistant and easy to clean
Standalone - With hidden tank, no need to purchase or dig an external tank saving time and money
Versatile decoration - it can be placed both inside and outside.
Lighting included - Two halogen lights are located at the foot, illuminating it from below, making it even more impressive in the evening and at night

Technical data:


Dimensions:
Width 61 cm (24 in)
Depth 26 cm (10.2 in)
Height 173 (68.7 ins)

Included:

2 x 10 Watt halogen light
1 x Pump
10 meters of cable
1 bag of pebbles

Made of stainless steel, this high-quality water wall is good for both indoor and outdoor use. Stainless steel is easy to care for, being extremely resistant to corrosion, making it perfect to leave outside. The built-in reservoir is hidden in the base of the decoration, from which water is pumped upwards where it then gently flows down the steel side back to the base.

Still too small?

So take a look at the version of "The Big One", a magnificent cascading water wall reaching up to 2.13 meters high and still being autonomous. Even when you think the huge version is big, we still have the bigger version. When comparing the two (photo below), "Big One" stands out and amazes.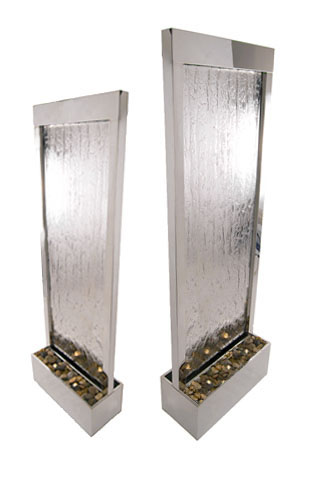 Additional information:

Easy to assemble
The product is solidly made for the German and English market
2-year warranty
16 other products in the same category